I don't like Rockingham, which is strange because it has it all.
Long circuit, massive wall of death straights, slow corners, fast corners and two hairpins. Add to the mix the imposing stadium stands for all round viewing and Rockingham International Speedway should be one of the UKs best. Unfortunately the "Bowl" format means it's always dusty, the surface is very abrasive and does your £1000 of tyres in one weekend and the fact that we are often on the "outer paddock" (read car park) and you'll see why I'm not keen.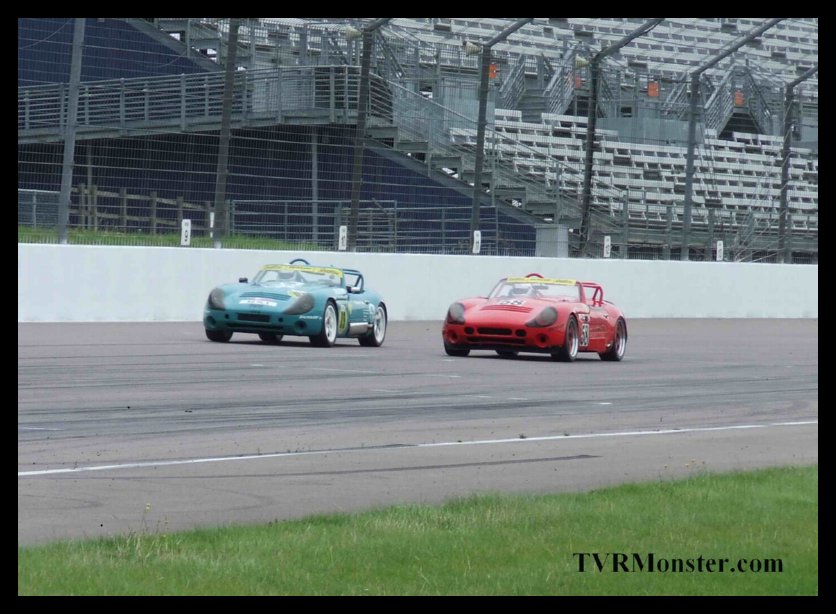 However, it's one of our 5 venues this year so I went with attitude. Hui "Humacher" Marshall runs well here so I would have to do the best that I could to gain on his +6 Championship points lead. High workloads have meant that preparation would be down to Dulfords again. No time to test it would have to be good out of the box. After our noisy run at "Donnie" I asked the guys to go through the car again as the transmission had a lot of strain put on it. We ended up with a new prop, new cvs all round, some mods to the cooling system, new springs, my repaired gearbox back in, replacement Y piece exhaust section and God knows what else. Big Col, Rich and Mike have had their work cut out this month as besides mine, they have also helped to finish Dan Birch's new Griffith 500 racer and Perry Waddams AJP Tuscan and his RV8 Tuscans! However, with Dulfords you can be sure of a sorted car.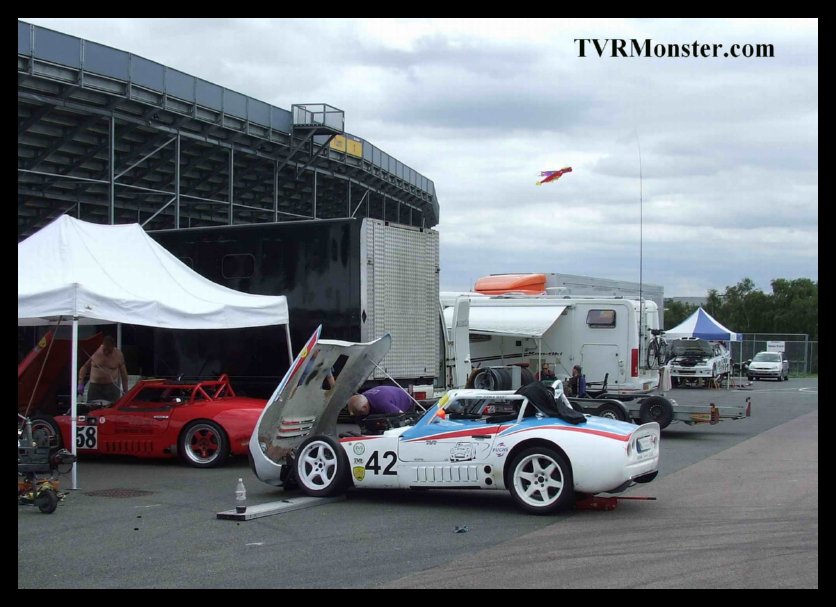 And that's what I got. The car looked terrific. It sat beautifully and sounded great (though a little quiet for my liking). Perry and I walked the track as he didn't have a fast car last year and I hadn't been there for 2 years. Some new, savage kerbs had been added but not much else. I hoped to be fast in "B" but as half the lap is flat out I wasn't expecting to be too far up amongst the more powerful "A" cars. After 4 "Qualy" banker laps to bed in the brakes (Oh yeah, new pads too), I came in for a check up. Big Col and Mike gave the car a clean bill of health and out we went for a flying lap. I had time for two and they both felt good, but as my lap timer stopped (powered with the transponder) I didn't know if they had been registered. After a nervous 15mins the sheets came out with the great news that my laps had been caught and had 2nd fastest overall behind Dulford teammate Perry Waddams! We were even happier when it was pointed out that at 1m29.1s, I had beaten the previous Group B lap record by a massive 1.5 seconds!
With just time for a slap on the back and a bite to eat, we all headed back to the grid for Race 1 at 2pm. I was hoping for another good start, but unfortunately I muffed it and bogged down. Six "A" cars were in front by Turn 1 and within a couple of laps, Darren Smith also nipped past at the hairpin. Though in a B car, Darren is registered in Group A so I wasn't actually racing him, but he had past me in a similar B car. I had a word with myself and cracked on after him. Two laps and a bit of rubbing later and I nipped past on the exit of Yentwood (Turn 3). From there I was a man on a mission. I caught Jason in the GpA S3 and had several close laps with him. We were then joined by a recovering Jamie Golby, who had a spin at Piff-Paff. After sneaking past Jason under breaking at Turn 2 I had several hooked up behind Jamie. In a re-run of Donnie I stayed with him for a while until he seemed to find a second wind and edged away. As he tangled with Perry up ahead, I regained ground and was a second or so behind as Jamie nipped past. Worrying about me too much, Perry out-braked himself at the chicane and I went past without issue, but Jamie had pulled clear again and was several seconds ahead. The race finished two laps later with the Monster Tuscan finishing a very respectable 4th Overall, 1St in Class, Fastest Lap and Lap Record! A clean sweep and finishing only 7.5s behind Race Winner Hui Marshall. No points gain on him, but what a race! Fantastic close racing throughout the field and a terrific standard of driving all the way…from the front to the back. 2011 really is a great year and we still had one more Race to go!
Race 2 and I muffed the start again! Starting 4th, two slipped by and once again I was behind Jason and Perry. Jason Clegg (From Str8 Six) is really shaping up well in his Rookie year, and it took several laps and a bit of a squeeze to get by under braking at the big Turn 2. I had to be pretty robust as Cliff was gaining in his wonderful T350R. Next was Perry…again. This time he was staying on his lines and not worrying about me too much. We tussled hard for 4 laps but again it has holding me up too much. As Cliff appeared in my mirrors again, I decided I'd have to make a decisive move. As I set up for a move at Yentwood, Perry braked early as he had gone very tight. I tapped his rear, breaking it quite badly (sorry mate) and nipped through as he went wide. He was right on me though and stayed there as we tussled again. He made the same move on me two laps later at Yentwood and caught me at the back (breaking my boot section) as I tried to defend. Once again this put Perry wide but allowed me to make the break as I caught the slide and pulled away. Now with a clear track I pushed to catch the leaders (Hui, Martin Crass and Jamie Golby) but they were well away this time. Mindful of the fastest lap I kept pushing and finished again, 4th overall, 1st in Class and with Fastest Lap; though this time I could not improve on the class record as "Rockers" had taken its toll on the tyres. Another up for me, was that Martin Crass had made the move on Hui and blagged the honours in "A"
I have been fortunate enough to Race with the Tuscan Challenge for 5 years now and they have all been great years. But I have to say, that the mix of cars, drivers and racing has never been better. As most of you know, the car is for sale as we – the Race family – are heading Down Under, and it's a real shame that this has to stop for me. But we are going out on a high. Class B is now ours again and whether we manage to win the Overall Championship or not, this really have been a fantastic year to end on.
Great to see some old campaigners like Tim Broughton and CJ back in the mix along with some new guys. John Seerey made an impressive debut in the ex Jordan car, as did my old mate Dan Birch in the recently refurbished Griff. Now as pretty underneath as it is on top, Dan pedalled well to get on the podium in the car he has built himself with a little help from his friends.
Next for us is our SpaFest. A whole week at one of the world's best circuits with an hour long Race over the weekend and trackdays on Monday and Tuesday. So the car will shortly be heading back to Dulfords for a spanner check and some glasswork to make sure we have the best shot at Spa possible.
It'll be good to see some of you there and if not, maybe at the DTEC season finale at Oulton in October!!! Phew
Pictures of the event can be found in the Gallery
Rockingham TVR Tuscan Challenge 2011 Race 2 onboard