Dean Cook has continued to dominate the Group A category and the Challenge at the first rounds of the 2008 season at Cadwell Park last week. After a great season in '07 as Group A Champ, with three class and Overal wins and rarely off the podium, "Deano" has continued to find pace in his beautifully prepared Aero Tuscan.
Running the same car with no new developments, and very little winter testing, Deano has found even more pace in the first two rounds at Cadwell Park, to take two wins and a tvr Lap Record in Race 2! A superb performance by one of the mainstays of the Challenge.
Deano always attends every round, with his beautifully prepared Aero Tuscan (with big wing and splitter) and his whole family in tow and supporting his every move. He is what grass roots tvr Motorsports is all about and I know he will continue pushing at every round this year. I wish him all the best and continued success, This really could be his year but Marc Hockin nearly spoilt the party in his Tuscan. Marc took the fastest lap only to have Dean snatch it back in the last couple of laps. Group A will be a real tussle this year.
Also worth mentioning here is Mickey Holden. He and his family run Green Star Racing Team are similar to Deano in many ways. A huge points total in '07 he would normally have done enough to take the overal crown, but unfortunately for Mickey, he had the super quick Sam Head in his catagory. But Sam is now in a Tuscan and with a years experience behind him at only 17, Mickey Took Two Group C Poles, followed by Two Race Wins with Two Fastest Laps. A great acheivement by Mickey and the Team. There's a couple more cars to come out in C this year, but Mickey has the power, the commitment and the support be a top candidate for Overal Title in 2008.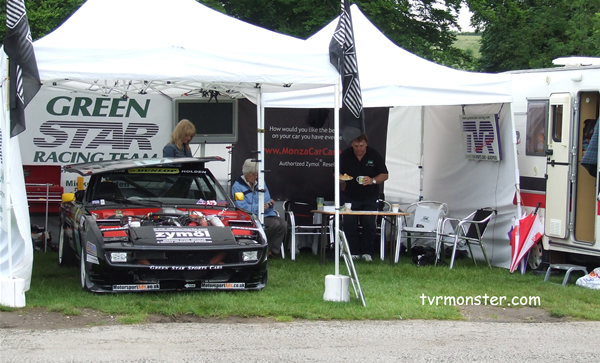 Come out and watch some of the fastest tvr racing ever! The GTFs will be out soon and promise to be even quicker' and with the strongest grids for some time and just about every tvr model out there at some one race or another ...there's never been a better time to watch tvrs Racing.
This years Drivers Championship Standings are
here
See you out there!
Andy89
tvrMonster