On arrival at Rockingham we were in buoyant mood. Some new tweaks to the car, previous good form at the Rock and some surprise hot weather meant I had a good chance against GpB front-runner Tim Davis. There was a strong field too, so as we set off for Qually I was quietly confident that the gap would be closing.
Always tough on tyres, I was using the same rubber we used at Silverstone. They were getting a bit leggy now, but with the budget as it was, I didn't really have a choice. Tim, however, was sporting some more brand new slicks. Hmmm maybe this would be harder than I thought. The session went well with a solid time coming up on the new to DTEC "International Sports-car Long" circuit. I felt there was more in the car but given the situation I was happy. Tim, it seemed had other ideas. He was 3 seconds faster! I had some work to do for sure as 3 seconds is LOADS!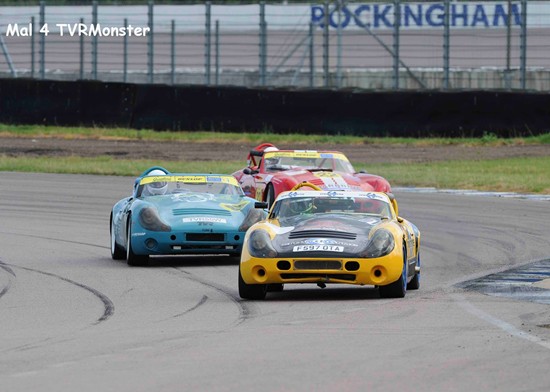 Race 1 and we're off.
The big news of the weekend was that double Tuscan Champion (the only consecutive double champion) Mark Hales was in Martin Crass' car. A highly successful Motorsport pundit, Journo and Racer; Mark would be the star of the field and it was cool to be on the grid with him. A strong start and I nicked in front of Tim by Turn 3. My old mate Perry Waddams had a stellar start and was up ahead with Johnny Wilson's GPA Cerb between us. It took some hard battling, but I managed to clear Perry after 5-6 laps with Johnny dropping back with brake problems. With a bit of air I put a handful of good laps together breaking away from GpB and going after GpA. I was chuffed to finish 3rd overall behind Mark Hales and Winner Dean Cook whilst winning B and setting the new Class record and fastest lap. But my mood soon changed and I drove into the garages with a nasty "clatter" coming from the engine.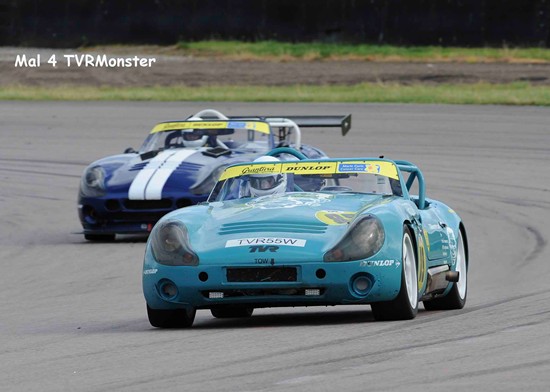 Big Col Apps (www.tvrssw.com) has been my (and many others) race mechanic for many years and we both knew the death rattle that enimated from the top of the right hand bank. "That sounds like it for us" I said. "Does sound bad" Col replied…"I'll just have a look…if you don't mind" he continued. So, at 5pm Col started to strip the engine. It turned out we had picked something up from the track and taken it into cylinders 5 and 7. Well that's definitely that I thought, but Cal carried on. The cylinder wall was OK and a forged piston could be tidied. The rings looked OK too, so I just depended on Col being able to seal the knackered cylinder head. By now it was 8pm. The valve was straight but the lip and valve seat were damaged. 3 hours later we had lapped the valves in with hand cleaner, salt, T-cut and metal polish! I kid you not. The valve was sealing…we knew this as it wasn't leaking the brake cleaner we put behind behind it. We borrowed some gaskets from Perry, I had fresh oil and filter, so Col put it all back together again whilst I blagged some food. He sat down to eat it at 01:30. What a star!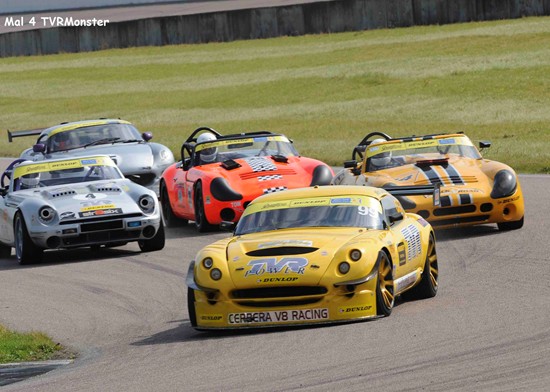 Race 2 and in the holding area fellow GpB runner Dave Chant congratulated us on getting the car out. "You have to take it easy though, Eh" he beamed. "Col! Do I need to take it easy?" I asked. "Nah!" came the reply. "Bugger!" said Dave. And with that it was back into the cars and out for Race 2. As I lined up behind Mark Hales and Dean Cook – both in GpA cars with sequential gearboxes – I thought that I owed it to Col to give the berries. A strong start again, Both Tim and I mugged Deano off the line and fought for Turn 1. Mark Hales, however, was gone! I out-braked Tim into Turn 1 and tried to open a gap. Tim was much stronger this time round though. It seems he'd had brake problems in Race 1 but that was now sorted. Dean and Mike Saunders pushed through by Lap 2 leaving Tim a clear run at me. He took chunks out of me out of every corner. A strong car and fresh slicks gave him a great package, and he knew it. He drove clean past me on the exit of Tarzan and put 6 car lengths on me in half a lap. I could see I was quicker in Turn 1 and 2 so I pushed really hard there in the following laps. Just staying in touch, on lap 8 I suddenly had no brakes in Turn 2 coming down from 130mph. I just managed to hold onto it and found some brakes with furious pumping of the pedal between corners. Tim had pulled out a gap but I pushed on as hard as I dared, you never know in racing. Tim must have had traffic or his own issues as I pulled back to about –50M. Maximising Turn 1, on Lap 11 I was flat on the throttle on the awesome banked circuit, when there was a massive bang from the back of the car. VERY scary! I half expected to spear off into the wall but it stayed true. As I lifted to brake into Turn 1 the car made a horrible noise from the transmission. It was now a matter of survival. A frigged engine, dodgy brakes and a diff (as we later discovered) with several teeth missing…I just wanted to bring it home. Even that seemed unlikely, but she held on for the remaining 4 laps to finish 2nd in class and 4th overall.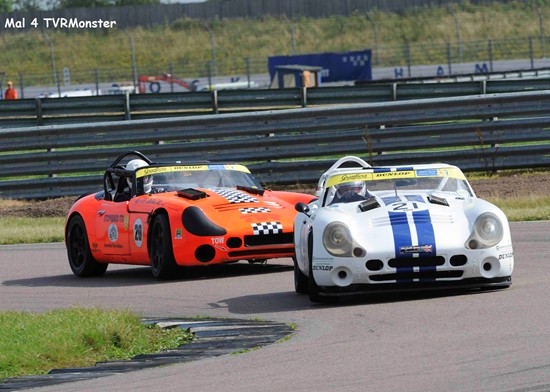 So, some more engine work required, a new diff and some more grunt to find, all in all a good weekend. saved by my mate Col. The old maxim, "to finish first, first you have to finish" is never truer than in racing 20 year old TVRs. But we'll be out at Snetterton in two weeks…Col will sort it. It'll just mean a couple more late nights. Or maybe early mornings!
Andy
TVRMonster