How did we do?
Firstly, a big thanks to John Eales and Colin at TVRSSW for even getting me there. John for rebuilding my 4.5L long engine at short notice; and to Big Col for building and installing it in time for Brands. I've been very busy with work and after spending far too much money last year and this meant it was well into 2012 before we could look at our Oulton engine failure to see what was needed. We knew that a valve spring had broken and fouled the oil pump, but the engine itself had held up. On inspection it was found to be pretty worn (it was a factory race engine but had maybe done a few more hours than we thought) and so we elected for a complete rebuild.
The car was prepared and the engine broken in on the rollers at 3pm the day before testing. Nothing like leaving it to the last minute. By 11pm we were at Brands for the Friday test day to see how we would shake down and run the engine in properly. Testing went well as we built up the speed and revs over the day breaking in the engine properly. We were doing some sensible times but to be honest I had expected a touch more. Did we have a problem? Col stripped the carbs, checked the timing and tappets etc and gave it a clean bill of health and so to Qually.
Three installation laps and back in for a check. Everything was OK but I was well off my race pace and was down in around 14th! Back out and I pushed hard. I couldn't seem to find a clear lap. Every time I was baulked at Surtees, Druids, Graham Hill…it was so frustrating. Coming in knew I wasn't where I could have been though I was surprised to find I was in 6th Overall and 7/10t second behind Tim Davis who had the Class B Pole. We definitely had more to do so it was off to check the car again. It just felt a bit…flat.
Saturday afternoon as we were in the holding area, race 1 was postponed due to a very nasty crash in the race before ours. A couple of Tin tops had touched coming onto the main straight and had ended up in the wall. This had made a mess of the barriers, which could not be repaired in time. The drivers were fine, but our race was rescheduled to Sunday morning. Nothing we could do so it was off to the bar.
Sunday morning and Race 1 is back on. The weathers dry and everyone is raring to go after an off-season of 8 months and 18 hours! We lined up…lights on…lights off GO! Tim and I both got great starts, moving up into the GpA cars but then Perry flew round the outside and took the lead at Paddock. That 6.2L Chevy engine really took off as he hooked it up in second gear. I had to stay on the outside of Martin Crass at Paddock as he used my car to stay on track dropping me back to 4th but to be fair I was happy with that. Deano snuck past on the Cooper straight and I had no answer. Dean Cook usually has to work to pass me there but this time he just drove past. We definitely have a problem. It was soooo depressing. I kept fighting back through the twisty bit only to have the leaders pull 2 seconds out of me on the main straight. The next few laps were spent trying to hold onto the front pack when suddenly I nearly went off at Graham Hill bend. Same again at Surtees. What's up? Do I pit? I stayed out then noticed the fluids that had been dropped by Darren Smiths ailing Tuscan. Back on it again I had lost too much ground to the following GpA cars and I was passed by Keith Vaughan-Williams and my old adversary Jonny Wilson in his Cerb. We all then closed up on Tim who had also had some scary moments on the dropped fluids. There then followed 3-4 laps with barely a fag packet between the 4 cars. Pass repass, block and move…it was terrific fun and I crossed the line only 3 seconds behind Tim with Keith V-W and Jonny in between. It was disappointing on the one hand, but great fun on the other and our data logger showed that we only had 260/tonne! We were expecting 310 so I was very happy to be right on Tim who has 325/Tonne. We definitely had work to do on the car before race 2!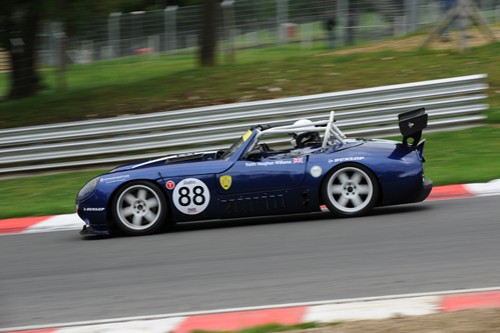 Class B has to run Data Loggers due to the variety of engines out there. We have 4 GpB Tuscans, Mine (a 4.5L) Dave Chants (a 5.0L) Graham Waldens (5.0L) and Tim's (a 5.2L). To keep the cars close on track there is a power to weight limit. If your car is heavy you can run more power, therefore Tim's is the heaviest being the most powerful. Mine can be the lightest as we are running the least power. From our car we are aiming for 325bhp/tonne but the best we can do with our weight is around 310 so as you can imagine, with 260 we were well down and lucky to hang on.
So, lots of conflabbing and head scratching done, we had decided that we knew where the problem is. We made some calls to check and the consensus was with us. The change was made and we waited for Race 2. Would it be better? Had we made things worse? Would it make THAT much difference? We would find out soon enough.
Race 2 and we're off again. Another strong start and we move from 7th to 4th by Paddock hill bend and then to 3rd as we go round the outside of Jonny W's Cerb at Druids. It's obvious that we have our power back! Tim has also started well and leads the race. Our pace is good as we manage to stay within a couple of seconds or so of Tim's Tuscan but soon Mike Saunders and Martin Crass get through (both GpA) and I sit on the back of Martin for a while. Now this takes some doing. Tim and I are giving away at least 10% in power to weight and those guys can run wings and sequential gearboxes. Giant killing is all part of the fun in GpB!
So, for the next 5 or 6 laps everything's under control. There are back markers all over the place but I've stayed with Martin and caught Tim again in the traffic. As we enter Surtees, on of the back markers pulls of line for Martin and stays well off line. I fly straight through gaining on everyone when BANG…I'm off. Hit to the offside I see the Chim roll off to the infield as I spin out onto the grass. Game Over.
Fortunately we are both OK but the cars have taken some damage. The glancing blow was the Chim not seeing me and pulling back onto the racing line. Guess I should have left him some room. It's a decision you make in an instant. "He's seen me"…but he hadn't. Could have been much worse.
So that was it for us. Back to base and pulling up a long list of things to do and bits to buy. Tim went onto win in GpB also taking fastest lap over me by 3/1000 second. But the car is fast again now and that was the main worry. It'll be fixed by Silverstone so we'll be out again fully fettled. It's now had a full suspension rebuild and a few other little "tricks" to quicken it up again so we'll see how we do against Tim there. DTEC is the prelude for us; I want it as fast as possible for Nurburgring! But we'll try and keep Tim honest in the Rounds that we'll be attending.
See you soon
Andy
www.tvrssw.com
Douglas Construction Services
Both our laps can be seen at TVRMonster on you tube, as can Tim's laps